OMGGGG. I got so many books and stuff this week! I got the mail every single day and my mom would roll her eyes every time she saw me walk in with another package. Heh. I went to Teen Book Con just today and will be posting more about that later. :)
Like my laptop wallpaper? :D
This is supposedly two weeks' worth of books, but last week was a slow week and I only got 2 books, so I didn't post an IMM. The rest is all from this week.
Born at Midnight by C.C. Hunter
The City in the Lake by Rachel Neumeier
Darke by Angie Sage (ARC)
Pride and Prejudice by Jane Austen
Overprotected by Jennifer Laurens
Abandon by Meg Cabot (ARC)
Numbers: The Chaos by Rachel Ward (ARC)
Beat the Band by Don Calame (ARC)
The Abused Werewolf Rescue Group by Catherine Jinks (ARC)
Girl, Barely 15, Flirting for England by Sue Limb
Girl, 15, Charming but Insane by Sue Limb
Girl, Barely 16, Absolute Torture by Sue Limb
Catwalk: Strike a Pose by Deborah Gregory
That's Life, Samara Brooks by Daniel Ehrenhaft
Parties and Potions by Sarah Mlynowski
Vanish by Sophie Jordan (ARC)
Anna and the French Kiss by Stephanie Perkins
Hex Hall by Rachel Hawkins
Demonglass by Rachel Hawkins
Nightshade by Andrea Cremer
Thanks to...
Everybody involved at Teen Book Con, including Andrea Cremer, Rachel Hawkins, and Stephanie Perkins (for signing my books!)
I got this... times six. Haha. Thank you, Sophie Jordan! (Giveaway
here
.
)
From Teen Book Con: Everything came in this...
Demonglass tote bag
And in it was...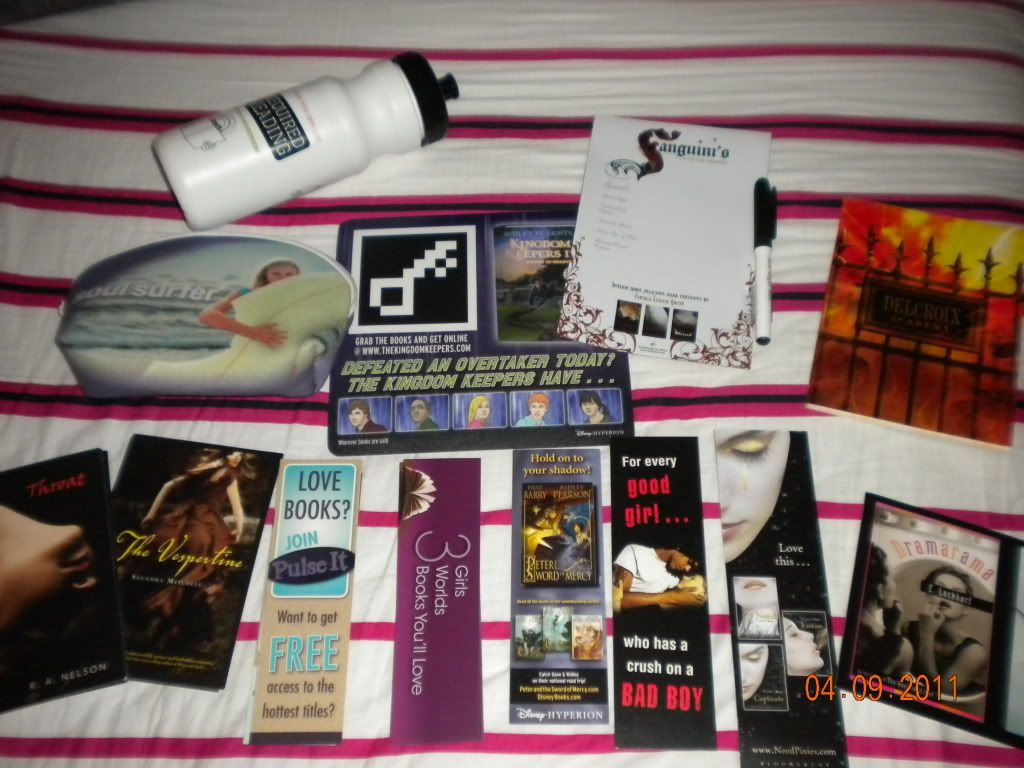 Jane Eyre movie: poster, pencil, booklet, bookmarks
Teen Simon and Schuster bookmarks
Peter and the Sword of Mercy bookmark
Perfect Chemistry bookmark
Need/The Drake Chronicles bookmark
Cynthia Leitich Smith magnet white board plus marker
Kingdom Keepers III mouse pad
Soul Surfer movie pencil bag
Unrequired Reading water bottle
GREAT. Now I have three out of four full shelves on my bookshelf. What the heck am I going to do after they're all filled?!?
What did you get in your mailbox this week? Leave a comment and let me know! :)