Books Received:
Waterfall (one ARC paperback, one ebook) and Cascade (one ARC ebook) by Lisa T. Bergren

The Best Amazon Order Ever:

City of Fallen Angels by Cassandra Clare (finally arrived!!) and Scorpia Rising by Anthony Horowitz
Betrayal by Lee Nichols
She Smells the Dead by E.J. Stevens
Spirit Storm by E.J. Stevens
Shiver by Maggie Stiefvater
Here is where I rant about Scorpia Rising. LOOK. The colors don't go with the other books on my middle grade shelf! It's so ugly! By itself, it's beautiful. In between two blue/green books, shudder! Sigh. I need to buy the rest of the series.
Also Received...
The Iron Witch bookplate
The Voyage of the Dawn Treader
movie - part of The Best Amazon Order Ever (squeeeeee!!!)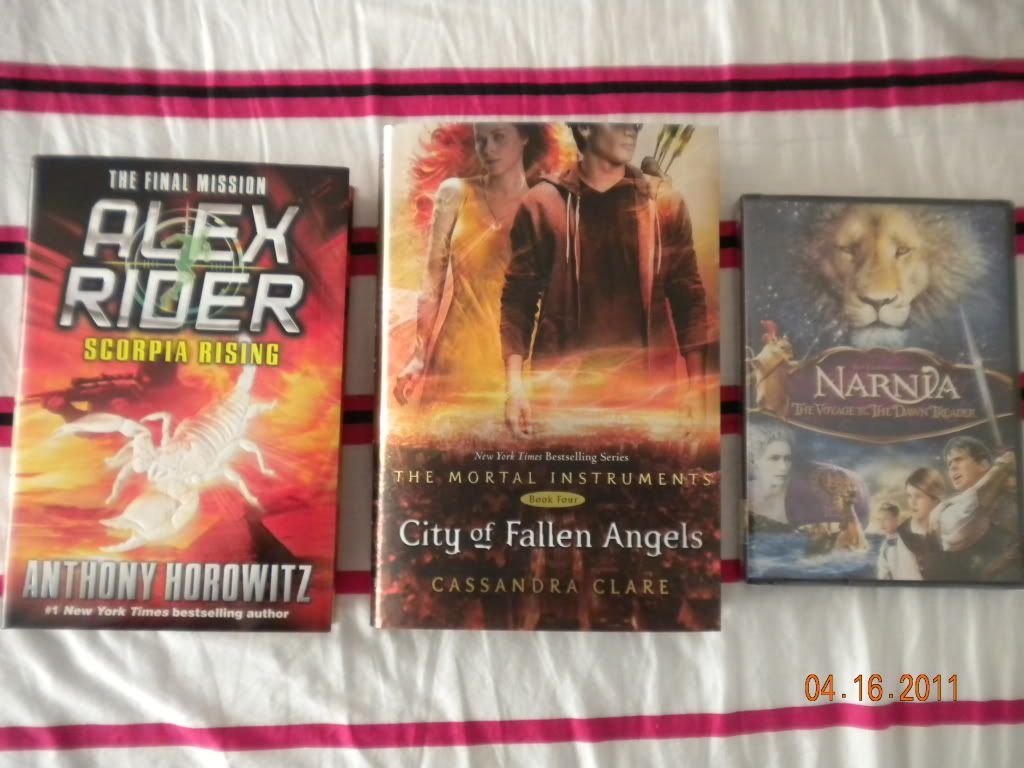 It's beautiful.
Spirit Guide
swag (from E.J. Stevens)
Close up of super cool romance trading cards!
Thanks to...
Amazon and my mom's wallet :D (and my mom, of course!)
What did you get in your mailbox this week? Leave a comment and let me know! :)