Hm... this might be a little late, but I was so busy this weekend I couldn't post this earlier. Saturday I had Teen Book Con almost all day, with a dentist appointment in between, and then I went to Asia Night in the evening at school. (My school has an unusually high amount of Asians. As they say, "You know you're at Clear Lake when you celebrate Chinese New Year during lunch with a lion dance and Chinese food/have an Asia Night."
Anyways. I showed up at Alief Taylor HS (Btw, fabulous, huge, great-looking school! Mine seriously sucks. It's sooo old.) at around 10, and what do I know, they're giving out free ARCs. What a great start to my day. I chose Abandon by Meg Cabot.
Isn't the cover super pretty?!? I also got Numbers: The Chaos by Rachel Ward because my sister tagged along.
After walking around a bit and purchasing Hex Hall, Nightshade, and Anna and the French Kiss, I went to the keynote speech given by Deb Caletti. She is a WONDERFUL speaker. Hilarious, but also motivating. Loved when she mentioned the greediness of book lovers like us when it comes to our books. She said something like this (don't remember exact words): "Don't touch my book, don't smell my book, don't even look at my book. What are you reading?" LOL. And also when she mentioned the "injustice of what movies have done to our beloved books." Heck to the yes. That deserved some applause.
Right after the keynote speech, I had to leave for a wonderful (read: totally unfun) dentist appointment. I obviously won't go into detail about that.
Upon returning, I was debating whether I should go into a panel since the third was in the middle of going on (And possibly ending soon. I had no idea, since I was stupid enough to not check my phone at the time.) Eventually, I decided to go into the "The Lighter Side, with Some Bumps Along the Way" panel with Deb Caletti, Lindsey Leavitt, Stephanie Perkins, and Kristen Tracy. Since it was in progress, I didn't take any notes. The only question I remember is "Why do you have blue hair?" obviously directed towards the fab Stephanie Perkins. She has an assortment of replies to that question.
The norm is "The cult leader told me to."

To the stranger, it is "I'm part Smurf."

And the actual answer? She just wanted to be special.
I want to rock blue hair like that.
Right after that panel, I got to the "Here There be Ghosts... and Werewolves and Everything Else!" featuring Andrea Cremer, Rachel Hawkins, Stacey Kade, Saundra Mitchell, and Joy Preble. Here are some questions, and the authors' answers (or at least, the ones that I wrote down).
Was paranormal writing a primary interest? Would you expect to be here with these other authors a couple years ago?
RH: I always wanted to be an opera singer. (Haha!) I started off as an English teacher. If you told me three years ago when I quit my job... well, I had no idea I'd be up here talking to you like I knew stuff.
JP: Paranormal - always an interest. I loved writing when I was little. Wrote a Thanksgiving play with I was seven, and my friends acted it out. It was terrible. I do fan fiction and I still teach.
AC: I wrote my whole life, but never thought writing was a real job, so I became a history major. After school, I wanted to go back to doing what I loved - horseback riding - and the horse crushed my foot, so I couldn't walk for 12 weeks. I sat on the couch with a laptop and the writing never stopped.
What makes your books different from others in the same genre?
RH: I could never write the exact same as another. This *points at Demonglass* is me. If you gave all of us a prompt, the five of us would come out with five different things. *all other authors agree*
How do you deal with Writer's Block?
AC: Music. I create playlists and listen and the words flow.
SM: I have a program that reminds you to write. It has modes that go from "Remember to write!" to "YOU HAVE TO WRITE" and starts deleting your words. *gasps of horror from other authors*
AC: I'm going to have nightmares about this.
RH: I've actually lost 20,000 words from a manuscript and had to start over. I think "writer's block" is more "writer's laziness." Sometimes, we just want to watch shows on our TiVo!
RH: We have no idea. Hollywood is crazy. I thought publishing companies were crazy...
SM: Yeah, the movies come to us.
JP: We wish we had control over them.
(As other authors in "The Lighter Side Panel" were also questioned this earlier, one author mentioned Meg Cabot saying "Just take the money and go!")
If you could be a supernatural creature, what would you be?
AC: I would be a Pegasus. *everybody laughs* I love horses.
JP: A witch.... not just because I write about them... they're not all bad!
SM: I would like an anime thing going on. Lights, and I jump up and I can be a ninja or warrior.
All those authors were super funny, and just great people. Sadly, I don't have the best hearing or the fastest writing skills, so I didn't get very much down.
After the panels, we headed to the cafeteria for signings, book sales, and drawings.
After some debate (I was running low on money...), I decided to buy Demonglass after all, since I figured I may like Hex Hall so much I couldn't wait for the next one after finishing the first. I got these all signed! :D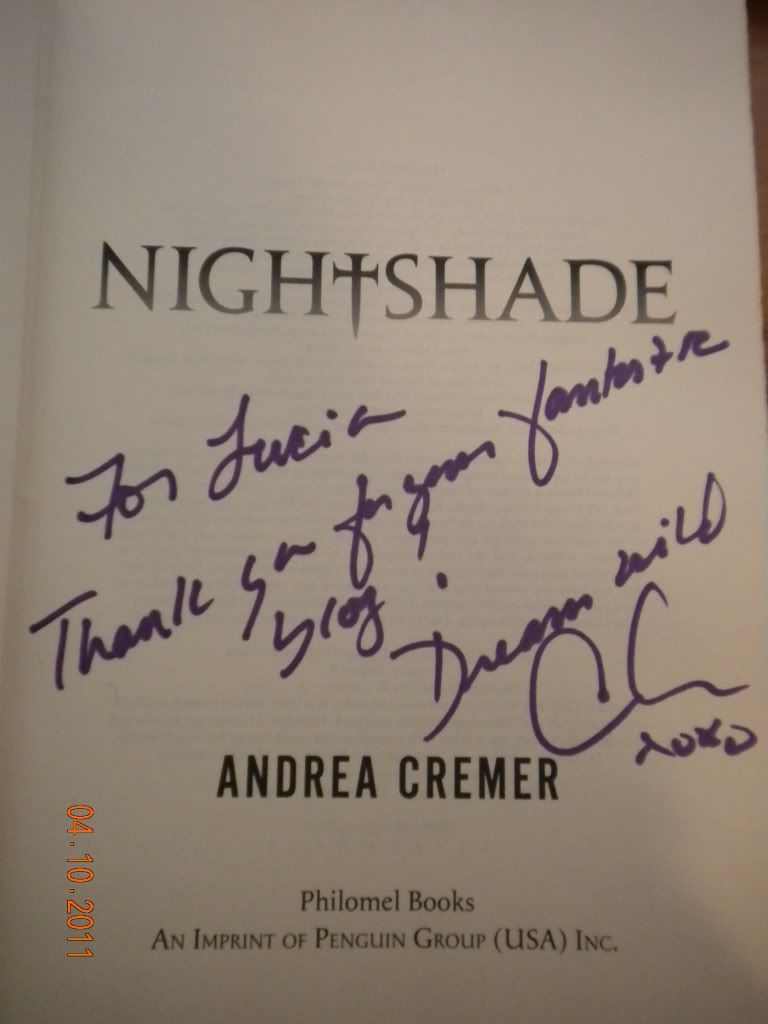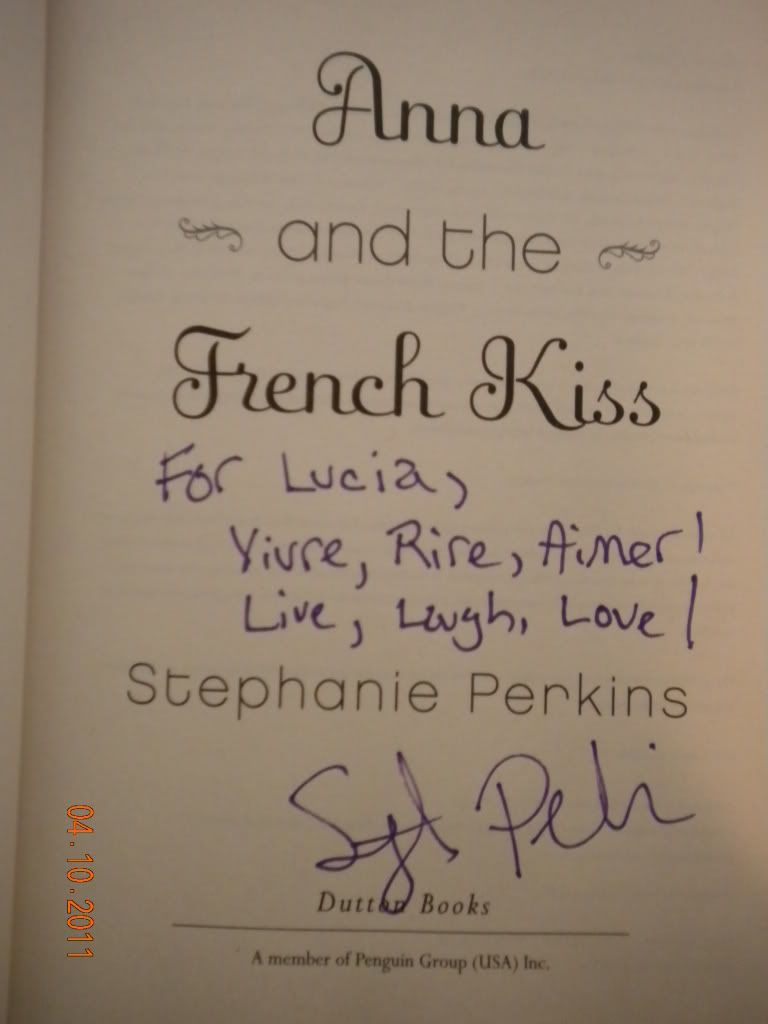 They all look so fabulous on my bookshelf. :) I also won some swag and such for a door prize drawing. Plus there were even two ARCs included, Beat the Band by Don Calame and The Abused Werewolf Rescue Group by Catherine Jinks.
And the swag I got... the specifics were listed in last week's In My Mailbox.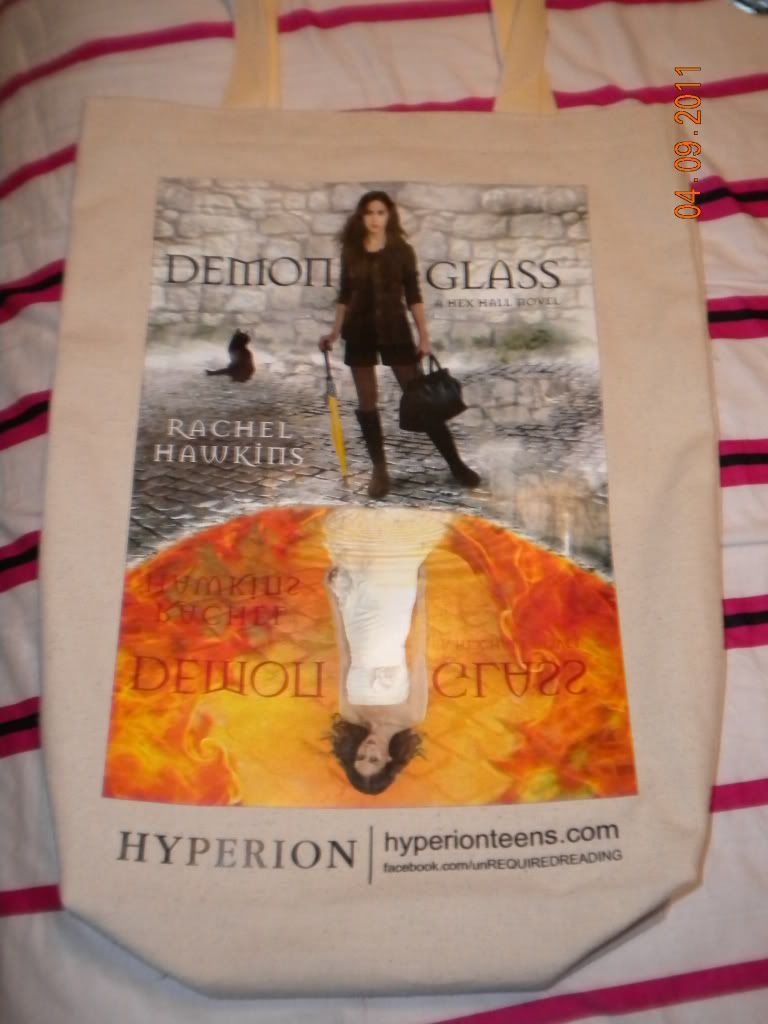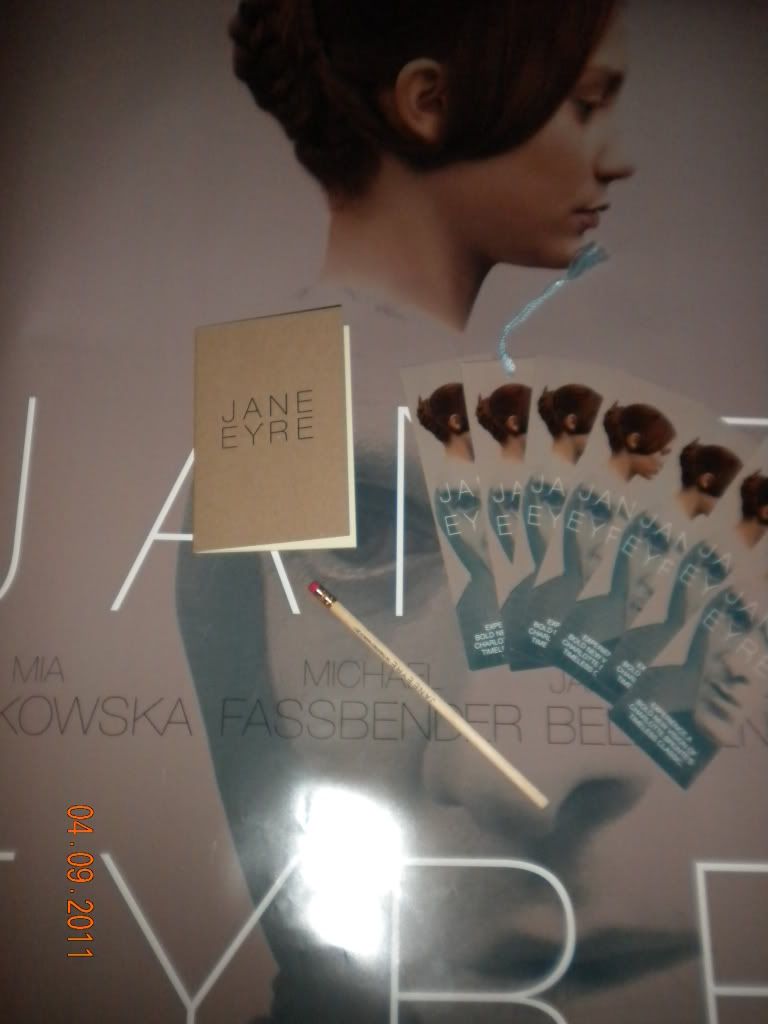 ***This giveaway has now ended.***
And now, after that extremely long and tedious post, FOR THE GIVEAWAY.
Two winners will receive assorted packs of Teen Book Con swag, and also some extra thrown in! :) (One even has a signed bookmark. The one who gets it will be random, and I won't tell you what book it's from! Clue: Poe.)

All regular contest rules apply.
Contest open to US only. Sorry, internationals! :(
This contest ends April 30.

Minimum number of entries is one.

You may tweet once a day for an extra entry! Fill out this FORM every time you do!
Tweet (fill out the form linked above!) : Win @TeenBookCon SWAG plus more from iLive, iLaugh, iLove Books! @Leecheeeee_3LB http://bit.ly/hGelCC Please RT!! :)