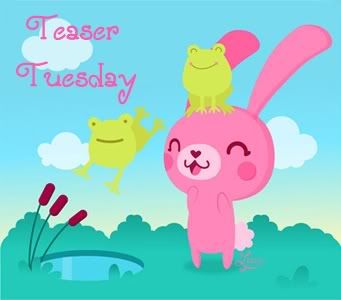 Teaser Tuesdays is a weekly bookish meme, hosted by MizB of Should Be Reading. Anyone can play along! Just do the following:
Grab your current read

Open to a random page

Share two (2) "teaser" sentences from somewhere on that page

BE CAREFUL NOT TO INCLUDE SPOILERS! (make sure that what you share doesn't give too much away! You don't want to ruin the book for others!)
Share the title & author, too, so that other TT participants can add the book to their TBR Lists if they like your teasers!
The two books I'm currently reading are on my Kindle, and I'm too lazy to be flipping back and forth between that, so I just pulled out The Red Pyramid in celebration of today's release of the second book in The Kane Chronicles.
"Bast," Carter interrupted. "Your pendant - it's the symbol of Bast, goddess of cats. I thought it was just decoration but... that's you, isn't it?"
"Very good, Carter," Bast said. "Now come, while we can still make it out of here alive."
Why didn't you tell me? I wanted to scream.
My father summoned his staff and wand. "Ruby, if we fail-"
"We can't fail," she insisted. "The world depends on it."
They kissed one last time, as if they sensed they were saying good-bye. Then they raised their staffs and wands and began to chant. Cleopatra's Needle glowed with power.
~Pages 113 and 470 of The Red Pyramid by Rick Riordan
LEASE LEAVE A COMMENT with either the link to your own Teaser Tuesday post, or share your two 'teasers' in a comment here (if you don't have a blog). Thanks!