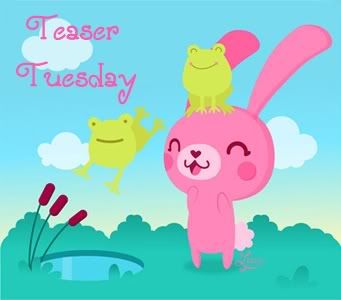 Teaser Tuesdays is a weekly bookish meme, hosted by MizB of Should Be Reading. Anyone can play along! Just do the following:
Grab your current read

Open to a random page

Share two (2) "teaser" sentences from somewhere on that page

BE CAREFUL NOT TO INCLUDE SPOILERS! (make sure that what you share doesn't give too much away! You don't want to ruin the book for others!)
Share the title & author, too, so that other TT participants can add the book to their TBR Lists if they like your teasers!
"Dosinia," I whisper, as if I have to explain. "She always outshines me. Always steals everyone's attention."




"Even Quince's," Doe says casually.




I jerk up to look at her.




I hadn't thought we were talking along enough for Doe to hear.




Her admirers gone, Doe's focus is back on the sketch below her. But her mouth, her perfectly pouty, overglossed mouth, is pulled into a smirk on one side.




"You do not," I say, my voice low and hard, "have Quince's attention."




Slowly, very slowly, she lifts her gaze from the paper until she's looking at me through her thick mascara-blackened lashed. For half a second she just holds my gaze with a piercing blue stare.




"I will by the time you get back."
~From Fins Are Forever by Tera Lynn Childs
Note: The text featured in this post is from an Advanced Reader's Copy (ARC). Changes may have been made in the final proof.
PLEASE LEAVE A COMMENT with either the link to your own Teaser Tuesday post, or share your two 'teasers' in a comment here (if you don't have a blog). Thanks!