Welcome to my very first annual BIRTHDAY PALOOZA! I am totally excited. We have a great board of authors and bloggers stopping by this blog along the two-week journey, and I hope you follow along with me! There's going to be guests and giveaways galore! Plus the pure epicness and awesomeness that just comes along with me and the blog.
This event will take place only on this blog, iLive, iLaugh, iLove Books, from July 31 to August 13, my actual birthday. I would like to THANK all the awesome people involved in my birthday palooza, whether you contributed with a post, a prize, or your eyes for reading this post and future ones!
To keep up with the event, refer to this post, because this is where all giveaways and guest posts will be listed and linked to. It will be updated as the event happens. And of course, be sure to grab a button to show that you're celebrating my birthday with me!
If you're Tweeting, feel free to use the hashtag #3LBBdayPal!!
Each day, there will be a challenge. Doing each one will get you extra entries for one of the giveaways occurring that day. You can do any of the challenges on any day, not just the one that it's posted on!
***If you are entering any giveaways, FILL OUT THIS CONTACT FORM if you haven't already!
Guest Posts:
Challenges:
DAY 1
DAY 2
DAY 3
DAY 4
DAY 5
DAY 6
DAY 7
DAY 8
DAY 9
DAY 10
DAY 11
DAY 12
DAY 13
DAY 14
Giveaways:
Day 1
Happy Birthday to Me by Brian Rowe
ARC Prize Pack
Day 2
Voice of the Undead by Jason Henderson
MG Prize Pack
Day 3
Wither by Lauren DeStefano
The Book Depository (INT'L)
Day 4
Water Prize Pack
Day 5
12.21.12 by Killian McRae
Day 6
Succubus Blues by Richelle Mead
Adult Prize Pack
Day 7
Born at Midnight by C.C. Hunter
Fins by Tera Lynn Childs (INT'L)
Day 8
Swag, Swag, Swag!
Firelight Swag
Redheart by Jackie Gamber
Signed Swag Pack
Day 9
Heavenly by Jennifer Laurens
Day 10
Waterfall by Lisa T. Bergren
Fins by Tera Lynn Childs Book Set
Day 11
E.J. Stevens Prize Pack
Day 12
The Key by Felicia Rogers
Half-Blood by Jennifer L. Armentrout
Day 13
YA ARC and Now Is The Time for Running
Don't Die Dragonfly by Linda Joy Singleton
Day 14
Abandon by Meg Cabot
YA Prize Pack
Grab a Button: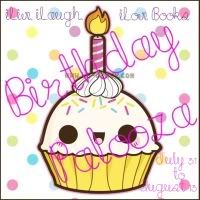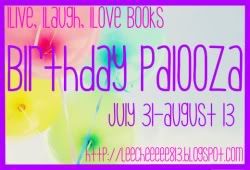 Thank you for taking part in this event. It's my first big one, and I hope everything works out perfectly!