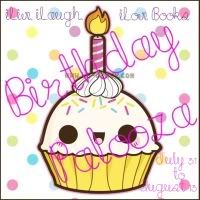 Welcome to the first day of my Birthday Palooza! The first challenge is going to give a huge clue about the giveaway later today. It's really simple!
The rules:
Grab the button (above) to show your participation.

Tweet your answer with the hashtag #3LBBdayPal (you may need TweetDeck or something else that allows you to tweet longer answers).

If you don't have a Twitter, just comment with your answer.

You may do this any day that the giveaways are running, not just the day the post is up!

Have fun! Simple, no?
ARC is my favorite acronym. We all know it stands for "advanced reading copy," but can you think of more things it can stand for?
It's an angry roast chicken.

...Maybe not so roast.