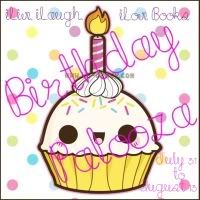 It's day 13 of the palooza! The penultimate challenge. Another day of book knowledge and guessing. This one is even harder!
The rules:
Grab the button (above) to show your participation.

Read the lines provided. Guess which book they're from and the author that wrote the book. I WILL accept your answer if you only list the series name.

Write down your answers as you go along. Once you click "Submit" on the form, the answers will be revealed. You will have to remember your score for the giveaway.

Have fun! Simple, no?
1. Afterward, I had the last laugh. I made an air bubble at the bottom of the lake. Our friends kept waiting for us to come up, but hey- when you're the son of Poseidon, you don't have to hurry.




And it was pretty much the best underwater kiss of all time.
2. "...Indeed, don't try to get there at all. It'll happen when you're not looking for it. And don't talk too much about it even among yourselves. And don't mention it to anyone else unless you find that they've had adventures of the same sort themselves. What's that? How will you know? Oh, you'll know all right. Odd things they say - even their looks - will let the secret out. Keep your eyes open. Bless me, what do they teach them at these schools?"
3. "I vow to protect [...] daughter of the Summer King, with my sword, my honor, and my life. Her desires are mine. Her wishes are mine. Should even the world stand against her, my blade will be at her side. And should it fail to protect her, let my own existence by forfeit. This I swear, on my honor, my True Name, and my life. From this day on..." His voice went even softer, but I heard it as though her whispered it into my ear. "I am yours."
4. "Sensitive," I tried.




Sam translated: "Squishy."




"Creative."




"Dangerously emo."




"Thoughtful."




"Feng shui."
5. "Tell me you'll come back for the pack. For me." His eyes were bright with tears. "I don't want to lose you."
[...]
"Do you love him?" His eyes searched mine.
"Don't ask me that," I said, lips still burning from my confession to Shay, now stinging with this deceit. "This isn't about love. It's about survival."
"No, [...]." His voice became hushed. "This is only about love."
6. "I think," [...] said, "that she just asked if she could touch my mango."
"She said that?"
[...] shrugged. "Yeah, then she gave me her number."
7. "May the odds be ever in your favor!"