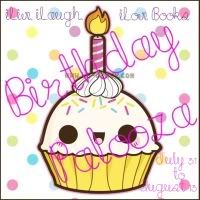 It's day 5 of the Birthday Palooza! We're going to the darker side today. Good thing they have cookies.
The rules:
Grab the button (above) to show your participation.

Tweet your answer with the hashtag #3LBBdayPal (you may need TweetDeck or something else that allows you to tweet longer answers).

If you don't have a Twitter, just comment with your answer.

You may do this any day that the giveaways are running, not just the day the post is up!

Have fun! Simple, no?
Spiders, fire, heights, the dark... these are some things we fear. Name a fear that you've overcome or are trying to overcome. Or at least, that you want to overcome. Can't think of any? Then tell us a funny story about the time you or somebody else got scared.