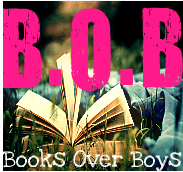 Momo. Teen blogger over at Books over Boys. Random ramblings. The Maine fanatic. Books are my happy place.

In other words:

You can pretty much always find me with my nose in a book and listening to The Maine :)
First of all, happy happy happy birthday to Lucia! Omg girl, how old are you?! ;)
OK, now everyone should know that I had the hardest time writing up this guest post! Earlier today, my nephew had come down to visit, so I was freaking out and I asked him, "Dude, what did we do for my birthday this year?!" Yeah. So bad, I couldn't even remember that. I really wish I did because as far as I could remember…out of all my birthdays, my seventeenth birthday celebration was the best. It was the best because my oldest sister basically celebrated my birthday for the whole weekend—we did something every day and there were a lot of laughs and I smiled like a little girl the whole time. The stuff we did weren't crazy or anything; just regular stuff that we could have done on any other weekend but I just
remembered being really happy and I felt special during those days and I guess that really is the point.
Anyway, so when I was talking to my nephew, I remembered what we did for his sixteenth birthday (WHY his birthday and not mine?! My brain is just evil like that) this year so I'll go through the details of what we did. His birthday is on May 30th and this year it fell on a Monday and I believe that is Memorial weekend. So early Saturday morning, some of my family members took off to Discovery Kingdom for the day. When my nephew and I were texting and stuff—about the trip, he had told me that for his birthday, I had to go on at least one of the roller coaster rides with him. Beware, I am the biggest baby; I hate those twisty, curvy, loopy rides so when we were just discussing it, I was freaked out already. But when we arrived at DK, the first ride we went on was the scary Medusa and that ride turned out to be a blast. After that, I was ready to get on more rides and my nephew…yeah, not so much. Early Sunday morning, my brothers and sisters headed out to Bodega Bay for the morning and it was so windy and just not a good time, lol! My sister, her husband, my nephew and I soon left to San Francisco for the rest of the day where we just hung out. Later that afternoon, my brothers and the rest of my sisters met up with us in San Francisco because the wind and everything in Bodega Bay was getting on everyone's nerves; they came to SF and they went crabbing.
I feel like I'm babbling. But the point is whether it's your birth day or not, your family and friends should celebrate it to its fullest. Like I said, whether it's something where you go all out or even if you just stay home, don't forget that it's your birthday and make sure everyone around you knows that it's your birthday. Shout it to the world; your presence is important to someone, everyone in this world. You matter! <3
HAPPY BIRTHDAY LUCIA! I hope you had the most amazing birthday EVER. Love ya!
P. S.
This is the
suckiest
guest post ever known to man, animal, cyberspace, etc.
Gag.
I
really
had a hard time with this.
Ah!
Missed out on a post or a giveaway? No worries! They're all listed on the first birthday palooza post!