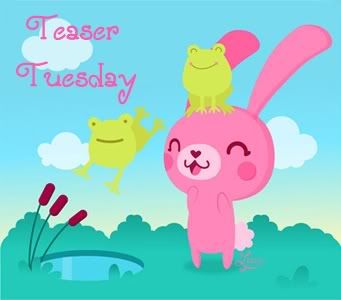 Teaser Tuesdays is a weekly bookish meme, hosted by MizB of Should Be Reading. Anyone can play along! Just do the following:
Grab your current read

Open to a random page

Share two (2) "teaser" sentences from somewhere on that page

BE CAREFUL NOT TO INCLUDE SPOILERS! (make sure that what you share doesn't give too much away! You don't want to ruin the book for others!)
Share the title & author, too, so that other TT participants can add the book to their TBR Lists if they like your teasers!
"But how are you? I'm sorry, I've completely taken over this conversation."




"Great. I'm great!"


I'm great? Two years of revenge fantasies, and that's what I come up with? Of course, in my daydreams, I'm never wearing matching pajamas either.


Oh, no. I'm wearing matching pajamas.




And my hair! I have wig hair! It's totally flat and sweaty!




Everything about this moment is wrong. I'm supposed to be dressed in something glamorous and unique. We're supposed to be in a crowded room, and his breath is supposed to catch when he sees me. I'll be laughing, and he'll be drawn toward me as if by magnetic force. And I'll be surprised but uninterested to see him. And then Max will show up. Put his arm around me. And I'll leave with my dignity restored, and Cricket will leave agonizing that he didn't go for me when he had the chance.
~From page 39-40 of Lola and the Boy Next Door by Stephanie Perkins (ARC)
Note: The text featured in this post is from an Advanced Reader's Copy (ARC). Changes may have been made in the final proof.
PLEASE LEAVE A COMMENT
with either the link to your own Teaser Tuesday post, or share your two 'teasers' in a comment here (if you don't have a blog). Thanks!