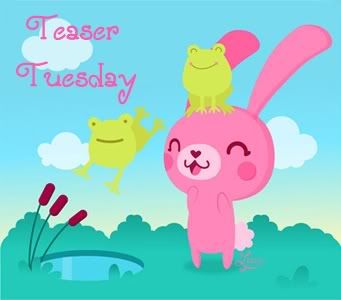 Teaser Tuesdays is a weekly bookish meme, hosted by MizB of Should Be Reading. Anyone can play along! Just do the following:
Grab your current read

Open to a random page

Share two (2) "teaser" sentences from somewhere on that page

BE CAREFUL NOT TO INCLUDE SPOILERS! (make sure that what you share doesn't give too much away! You don't want to ruin the book for others!)
Share the title & author, too, so that other TT participants can add the book to their TBR Lists if they like your teasers!
"You 'bout done, GI Jane?" she asked, gesturing toward me. "Or maybe you want to put a few more knives in your hair. And there's still your other leg. Maybe wrap a whip around it?"




"What's with you?" I asked. "I'm just getting ready to ride with Marcello. You know, go stir up the boys, get 'em psyched. Aren't you coming?"




She stared at me, her blue eyes piercing mine. It almost hurt me, physically, to keep it up, to lie to her to her face. I turned and studied the rest of the weapons - fairly picked over by now. But that was when I found what I wanted. The iron claw attached to the length of rope. I'd have to come back for it later, when I wasn't with Lia.
~From Page 363 of Torrent by Lisa T. Bergren
Note: The text featured in this post is from an Advanced Reader's Copy (ARC). Changes may have been made in the final proof.
PLEASE LEAVE A COMMENT with either the link to your own Teaser Tuesday post, or share your two 'teasers' in a comment here (if you don't have a blog). Thanks!