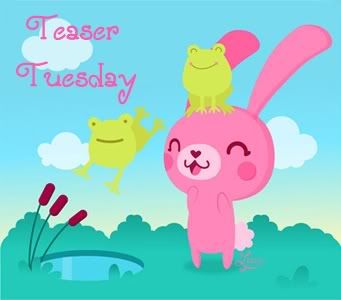 Teaser Tuesdays is a weekly bookish meme, hosted by MizB of Should Be Reading. Anyone can play along! Just do the following:
Grab your current read

Open to a random page

Share two (2) "teaser" sentences from somewhere on that page

BE CAREFUL NOT TO INCLUDE SPOILERS! (make sure that what you share doesn't give too much away! You don't want to ruin the book for others!)
Share the title & author, too, so that other TT participants can add the book to their TBR Lists if they like your teasers!
"Hmm. Hey, ice-boy, hold these for a second, will ya?" Puck asked, holding out the mushroom kebabs. Frowning, I took them, and he struck me upside the head, not hard, but solid enough to rock me forward a step. "Stop being so damned fatalistic," he said as I turned on him with a snarl. "If I didn't want to be here, I wouldn't be. And you know you can't do it all by your lonesome, ice-boy. Sooner or later, you're going to have to start trusting us."




I laughed at him then, bitter and self-mocking. "Trust," I said flatly. "Trust requires the faith of both parties, Goodfellow."




"Enough," the Wolf growled, baring his fangs at us all. "We're wasting time. Those who wish to leave, leave. But I believe the consensus is that everyone is staying, is that right?" No one disagreed with him, and he snorted. "Then let us go. I have no idea why two-legs wish to stand around and talk so much."




"For once, I agree with the dog." Grimalkin's voice came from an overhead branch.
~From Kindle Location 1489 of The Iron Knight by Julie Kagawa
Note: The text featured in this post is from an Advanced Reader's Copy (ARC). Changes may have been made in the final proof.
PLEASE LEAVE A COMMENT with either the link to your own Teaser Tuesday post, or share your two 'teasers' in a comment here (if you don't have a blog). Thanks!