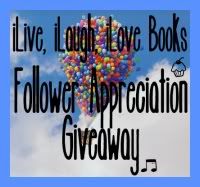 One year and almost five months ago, I started this little book blog. Since then, my blog has grown a lot and it's all because of you guys. The followers. :D I reached 1000 GFC followers a while ago and I promised a giveaway. I also teased you guys on Facebook and Twitter, with promises of giveaways at 500 likes and 888 followers (because I am Asian). Since then, I have reached 1078 GFC followers, 537 Facebook likes, and 1109 Twitter followers. Sorry for the procrastination, but I do keep my promises!
Because I love lists and statistics, here's an idea of what's happened on the blog since January 1, 2011:
81402 pageviews

518 blog posts

78 giveaways

89 reviews

78 author interview and guest posts

2 hosted events (Birthday Palooza and All Things Asian)

Wish I knew how many comments... dang you, Disqus!
Thank you guys for commenting on my blog, liking my Facebook statuses, and retweeting my tweets... Each interaction means so much to me. I love it when we chat books on Twitter or Gmail. Please, talk to me! I do not bite. :)
So yeah. I'm done blabbing, because you probably want to get to the good part.
Here are the prizes:
1 International follower (anybody that lives anywhere TBD ships) will win a $10 order from The Book Depository

1 US follower will win a signed ARC of The Scorpio Races by Maggie Stiefvater

3 US followers will each receive a swag pack with an assortment of children's, MG, and YA books
Just fill out the Rafflecopter below. This giveaway will end at midnight on June 3rd.
a Rafflecopter giveaway